Funding
|
Grantmaking Overview
|
Sponsorships
Connecting, celebrating, and building power together
Range: $2,500 – $5,000, in some exceptional cases we offer $10,000 or more 
Application due: At least 60 days before and up to one year before a planned event.
Events and gatherings are important opportunities for people to come together, and we aim for organizations and leaders working for equity and racial justice to do just that through sponsorships.
We are most likely to support organizations whose leadership reflects the communities they serve. Sponsorships are one way we get to know more about the work of organizations, how they are connected to their communities, and their efforts to bring people together for change.
At Inatai, we prioritize funding organizations that emphasize political power, organizing, and power-building to advance racial justice and equity in Washington.
Sponsorships are not limited to the examples here, and we welcome your ideas for the events you are hosting that will benefit your organization and community and advance equity and racial justice. We support in-person, virtual, and hybrid events. Please continue reading the rest of this page to better understand our criteria for sponsorship.
Celebrations and similar events
that bring people together based on culture, community, and/or personal identities to build connections and foster collective action.
Staff and leadership retreats
with agendas focused on learning and action planning related to systems change or equity efforts.
ADVOCACY EVENTS
such as public demonstrations for economic and racial justice, lobby days, or gatherings that advocate for community-rooted equitable public policy.
Strategic planning sessions
that allow your organization to think big-picture and identify key strategies to move your work forward.
Open houses
that welcome community members and other organizations to tour your space, learn about your work, and connect with your organization and one another.
Fundraisers
to support and strengthen your organization's long-term agenda.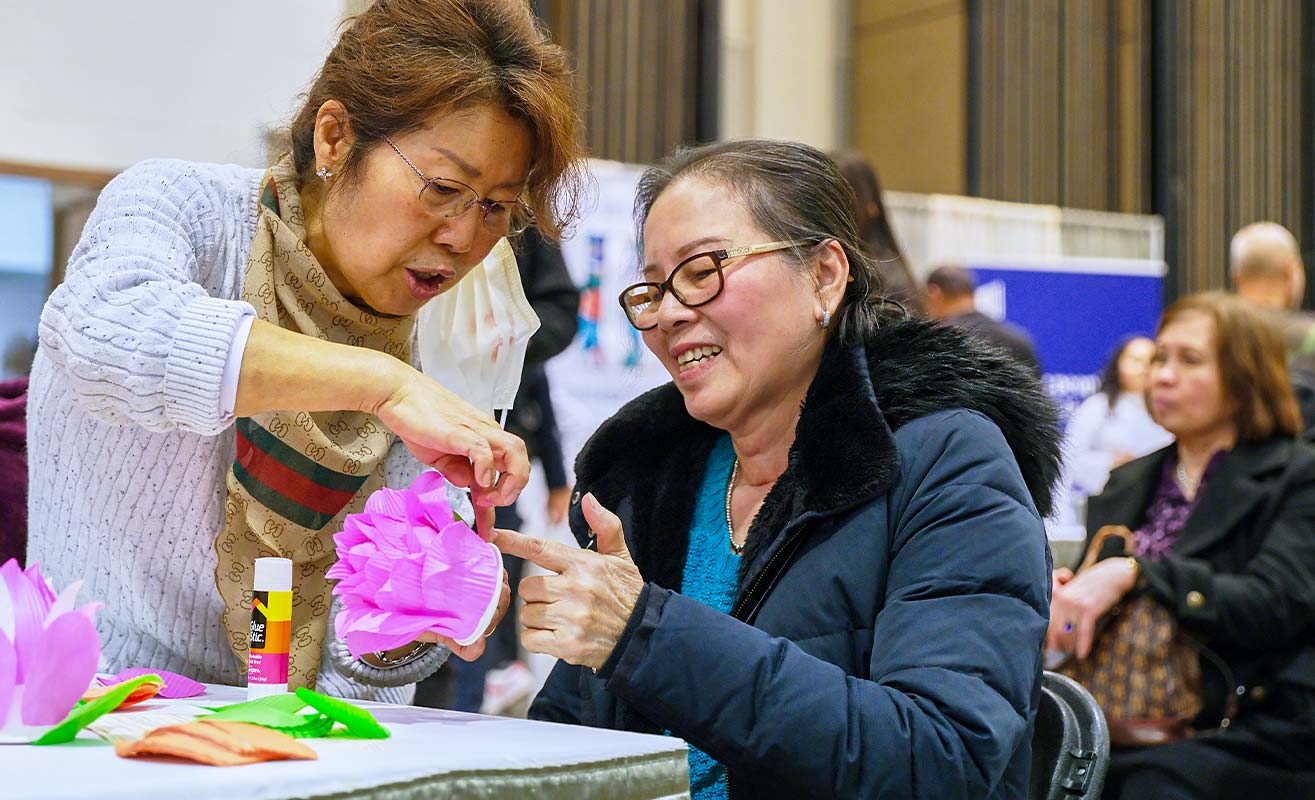 Asia Pacific Cultural Center's annual New Year celebration. Photo: Uly Curry
Not sure if you're eligible? Here is a checklist: 
You are a 501(c)(3) or 501(c)(4) organization, tribe, or nonprofit corporation based in Washington or providing services to Washington communities.

 

You are hosting or co-hosting the event.

 

Your organization is reflective of and rooted in the communities you serve.

 

Your event will take place in Washington or serve Washington communities.

 

Your event will take place at least 60 days from the date you apply.

 

You have not received a sponsorship from us in the last calendar year.

 
If you answered yes to all the above, you are eligible! If you have additional questions, review the Application Guidelines below or contact us at sponsorships@inatai.org.
We accept sponsorship applications throughout the year and ask to receive them at least 60 days before the event and no more than one year in advance. We encourage you to submit your application as early as possible within that timeframe.
Review the eligibility checklist and make sure your organization's request fits the guidelines listed.

 

Fill out the online

Event Sponsorship Application

.

 

If you have any questions or would like to submit the request in a different language or format, email

sponsorships@inatai.org

.
Community members celebrate amid protests during Pacific County Pride. Photo: Amiran White
We are committed to making the application process available in languages other than English and to people with disabilities. We are also excited to work with organizations that are new to us. To those ends, we provide:
Interpretation and translation services (including ASL and/or CART)

Large-print formats of instructions and applications

Alternative application methods, including over the phone, by video or voice recording, and on paper

Support from professional grant writers
Please contact us at sponsorships@inatai.org or 866.389.5532 if you need one of these or another service, and we will do our best to provide it. We know it takes time, trust, and effort to request these services, and thank you for sharing how we can make this process work for you.
My organization is already receiving funding from Inatai. Can I apply for a sponsorship?
Yes, we invite all organizations we currently support through other funds to apply for a sponsorship as long as you haven't already received a sponsorship this calendar year.
Who can apply for sponsorships?
Tribes, 501 (c)(3)s, 501 (c)(4)s, and other nonprofit corporations that meet our eligibility requirements are welcome to apply. Your organization must provide documentation of your tax-exempt status or be sponsored by a fiscal agent who has documented tax-exempt status.
What are the deciding factors for sponsorships?
We are most likely to support organizations whose leadership reflects the communities they serve because we believe the people most affected by racial and social inequities should be at the center of solutions.
Throughout our work, we support organizations led by and serving Black, Indigenous, and other people of color; immigrants and refugees; the queer and disability communities; and people who identify with more than one of these groups.
For sponsorships, we consider the following:
Race/Ethnicity: We evaluate how your event reflects the communities you serve — including your organization's leadership, the event design, and more—giving preference to culturally specific, multiracial, and cross-racial organizations and events.
Disability/Ability: We prioritize disability-led organizations and those organizing for disabled people to be fully included because we recognize that people with disabilities frequently experience inequities. We also ask applicants to share how a sponsored event will be accessible to all people.
Socioeconomics: We prioritize sponsorships for organizations based in communities experiencing poverty that are led by individuals living with low incomes.
Organization size: We encourage small and mid-size nonprofits to apply and prioritize support for events where sponsorships might have the biggest effect.
Geography: We prioritize areas where philanthropic funding is less common, and our support can go further, recognizing that the bulk of philanthropic funding is concentrated in Western Washington.
We also welcome applications from organizations serving communities along our state's borders and from tribes for whom Washington is part of their traditional territory.
What types of events are not typically sponsored?
We do not sponsor the following event types:
Events hosted by or for the benefit of for-profit organizations
Partisan political events, dinners, or fundraisers, including those marketed as "bipartisan"
Events hosted by large institutions or their affiliate association or friends-of groups, such as museums, hospitals and health systems, universities, and grantmaking foundations
Classes that take place over the course of a quarter or semester
Scholarships, including traditional educational scholarships or requests to sponsor attendees at events
Fundraisers supporting national associations, including their local chapters
Sports teams,

matches,

leagues, or associated booster or fan groups
Schools, booster clubs, or parent-teacher associations (We will consider community-based organizations hosting events for education equity.)
Runs, walks, races, bike rides, etc.
Research and data-gathering projects, including focus groups, town halls, or forums designed to solicit one-way feedback
Scientific or medical conferences

Farmers markets, car washes, bake sales, block parties or neighbo

rhood walks

Resource fairs, such as job fairs
Do you ever make exceptions on event types?
We make rare exceptions to the guidelines above. If you believe your request may be an exception, please contact us at sponsorships@inatai.org or 866.389.5532 with an outline of the event and the reason an exception should be made. This must be done 90 days prior to the event. If an exception is approved, you will then submit a full application subject to the deadlines and evaluation outlined above.
Will Inatai Foundation attend the event?
Organizations may choose to invite our staff, our partners, and other members of our community to participate in sponsored events. You will indicate on the sponsorship application if and how you would like us to participate.
Whether you do or do not want our participation has no effect on your sponsorship request being granted. We ask up front only so we know how we can be most supportive.
How often can an organization apply for sponsorship funding?
Organizations are invited to submit one sponsorship application at a time and may receive one sponsorship per calendar year for an event.